Video about US-backed rebel atrocities sent to 76 million followers, campaign emails also hacked
Paul Joseph Watson Infowars.com October 28, 2013
UPDATE: Did Google Collude With Obama Administration to Censor Video?
President Obama's official Twitter and Facebook accounts – which have a combined audience of 76 million followers – were hacked by the Syrian Electronic Army and used to promote a link to a video which highlights how US-backed rebels are committing terror attacks in Syria.
The account was compromised less than a day after Obama's presidential campaign website was also hacked by the SEA.
The Syrian Electronic Army confirmed to Infowars that they were behind the hack.
Perhaps to temporarily evade detection, the link to the video was tweeted out next to a non-descript message which read "Immigration is a bipartisan issue."
On Obama's Facebook page, the same link was sent out alongside the words, "Watch the weekly address on Obamacare."
About an hour after the hack, SEA announced that they had also got access to the Obama Campaign's emails, tweeting out a screenshot of the organization's Gmail account.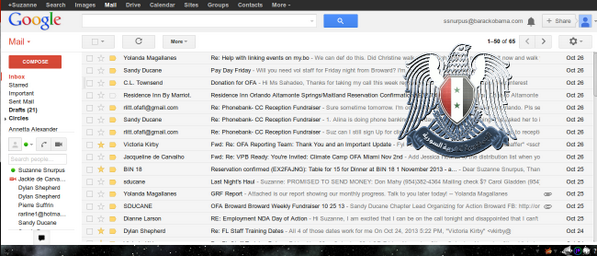 SyrianElectronicArmy@Official_SEA16
We accessed many Obama campaign emails accounts to assess his terrorism capabilities. They are quite high #SEA
252 Retweets  68 favorites
.
The group said they were returning the favor for NSA spying.
Obama doesn't have any ethical issues with spying on the world, so we took it upon ourselves to return the favor. #SEA
When users click the link, they are redirected to the 24 minute video below which highlights a number of terror attacks and other atrocities committed by US-backed rebels.
The Syrian Electronic Army has been responsible for a number of increasingly high profile hacks this year, including one that targeted the US stock exchange.
http://www.infowars.com/barack-obamas-twitter-facebook-hacked-by-syrian-electronic-army/
*********************
UPDATE:  Did Google Collude With Obama Administration to Censor Video?
…In a possible act of collusion between the Obama administration and Google-owned YouTube, a video exposing US-backed rebel atrocities in Syria – which was sent out from Obama's official Twitter account after it was hijacked by hackers – was quickly censored by YouTube.
As Infowars reported first exclusively, Obama's official Twitter, Facebook and campaign website were hacked by the Syrian Electronic Army earlier today. The accounts were hijacked and used to promote a video to Obama's combined total of 76 million followers.
The clip was a 24 minute compilation of rebel atrocities and terrorist attacks committed in Syria.
Within hours, the video was removed for "shocking and disgusting content," despite having already been hosted on YouTube for months.
Only after the video started receiving attention as a result of Obama's hijacked Twitter account did YouTube see fit to delete the video, suggesting collusion between YouTube and the White House at some level.
YouTube routinely censors content in response to requests from governments and law enforcement authorities.
As we reported in 2011, demands to remove information, including videos containing "government criticism," are increasing year upon year. YouTube complies with the majority of the requests, including the removal of videos which merely show political demonstrations.
"YouTube occasionally receives legal complaints from governments around the world to block content on our site. After a review of the legal complaint and the content at issue, YouTube may block specific content in order to comply with local laws in certain countries," states the company's disclaimer.
The notion that the Obama administration asked Google-owned YouTube to remove the Syria video that was sent out from Obama's hijacked Twitter and Facebook accounts is plausible given Google CEO Eric Schmidt's cozy relationship with the White House.
Schmidt has been a major donor to Obama's two presidential campaigns and served as an informal advisor during Obama's 2008 White House run. After his success in 2012, Obama even offered Schmidt a major cabinet post."….
The Syrian Electronic Army has been responsible for a number of increasingly high profile hacks this year, including one that targeted the US stock exchange.
http://www.infowars.com/did-google-collude-with-obama-administration-to-censor-video/
Link to the video which the Syrian Army linked to is no longer available – after having being online many months already: http://www.youtube.com/watch?v=kN2kHth_tFw
Sad thing to have to say but yet again I'm on the side of the Syrians against my own country. I've heard from my sources that the Syrian Army is protecting our fellow brothers and sisters in Christ along with all minorities and innocents, as such, they have our sincere thanks. I wish them luck in their cleverly divised hacking – maybe they can bring down this evil administration we have in our midst since we're having no luck. The only people left who need to be truly exposed, aside from the paid al-qaeda mafia thugs – paid by Qatar/Sauds Syndicate, is Obama and his Corporate Syndicate. My whole inner being is repulsed when I see this man let alone listen to his pathological lies on the continuum.