Paul Joseph Watson & Alex Jones
Infowars.com
April 12, 2014
BLM federal agents are threatening to shoot Cliven Bundy supporters who are attempting to seize back stolen cattle as a showdown looms.
Go to 3:39 in the video to learn about the feds' threatening to shoot people.
Despite the fact that the Bureau of Land Management has backed down and announced it will cease its operation to round up Bundy's cattle, the rancher gave Gillespie a one hour time limit to seize all firearms from BLM agents involved in the siege.
Video footage from the scene in Bunkerville shows hundreds of cowboys on horseback, with supporters now vowing to take back hundreds of cattle the feds have already stolen from Bundy.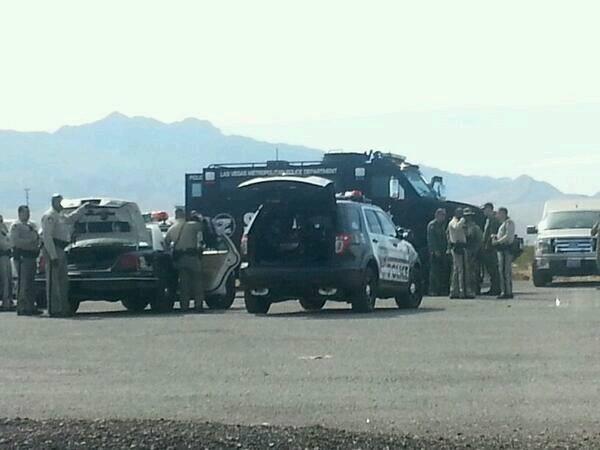 Infowars reporter David Knight is at the center of the scene and says he clearly heard BLM federal agents threaten to shoot men, women and children.
Police are now blocking roads and demanding that hundreds of Bundy supporters turn back as tensions mount.
SWAT teams are also in place.
Some are now reporting that BLM have pulled out of the area and police are allowing vehicles to pass.
The Las Vegas Review Journal is reporting that the BLM has agreed to completely cave and release all the cattle they rounded up.
http://www.infowars.com/bundy-demands-sheriff-disarm-blm-as-showdown-looms/
~~
Related
BLM Backs Down: Sen. Reid-Big Chinese Energy Land Grab Vs Bundy Family Ranch
FAA Designates Bundy Ranch a No-Fly Zone
Breaking: Sen. Harry Reid Behind BLM Land Grab of Bundy …
If the Feds Take Your Cattle and Property, YOU Become …
Clarke Co. Commissioner Threatens Ranchers: "Better …
Range War – Nevada Cattle Rancher Standoff
Clarke Co. Commissioner Threatens Ranchers: "Better Have Funeral Plans" – "inbred bastards" – said we should "turn our asses around on mind our own f-ing business"
.
Watch – Live stream link working on an IPAD and batteries:
This feed is saying that there wasn't a threat to kill the people present and the cell towers haven't been taken down as reported above…the local cops per this reporter states the local cops are on the side of the people…he also condems the above reporting…(MC->will continue to monitor both – time permitting)…
http://www.ustream.tv/channel/thepetesantillishow
.
The thousands of people present will listen only to the State of Nevada. They refuse to listen to the BLM Feds-US Government/Globalists who should have nothing to do with this land. Since the feds banned the air there are no news reports from the National media  at this time – blackout – censorship…
.
Harry Reid and his accomplices are in deep trouble. They'd better pray that nothing ontoward happens  here…as should we all.
.
Excellent link w/ a good collection of links/videos: nebraska attitude
Good summary here w/ links: dan miller panama