Epic confrontation "like something out of a movie"
Paul Joseph Watson & Alex Jones
Infowars.com
April 12, 2014
In an epic standoff that Infowars reporter David Knight described as being like "something out of a movie," supporters of Nevada cattle rancher Cliven Bundy advanced on a position held by BLM agents despite threats that they would be shot at, eventually forcing BLM feds to release 100 cattle that had been stolen from Bundy as part of a land grab dispute that threatened to escalate into a Waco-style confrontation.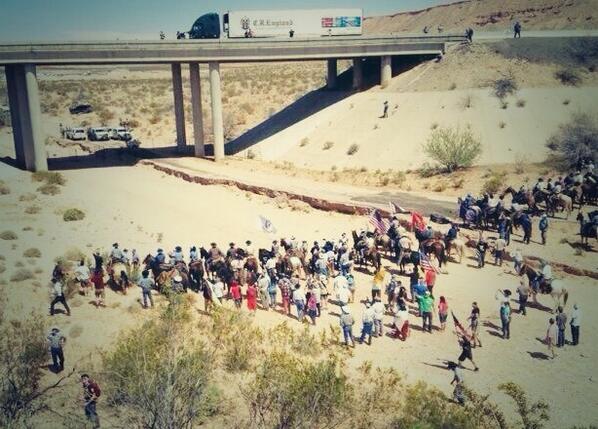 Despite the fact that Bureau of Land Management (BLM) officials agreed to cease their operation to seize Bundy's cattle after a massive public backlash, Bundy demanded that Sheriff Douglas Gillespie disarm BLM officials and return his stolen cows.
When this didn't happen, hundreds of Bundy supporters, including cowboys on horseback, descended on a nearby cattle pen outside of Mesquite where the seized cows were being held.
In a tense standoff, armed BLM feds, backed up by at least one SWAT team, threatened to shoot at Bundy supporters if they marched any closer to a line of vehicles.
Infowars reporter David Knight, who was at the head of the march, described the scene as like the moment from V For Vendetta when the military is forced to stand down.
Despite threats such as "one more step and you're dead," the protesters continued their slow march towards BLM agents as bullhorns blared.
Refusing to back down, the protesters marched straight past the armed men and towards the cattle pen.
Sheriff Gillespie eventually appeared to inform Bundy supporters that the BLM had finally caved and agreed to release the 100 cattle they had seized that were inside the pen.
After around 30 minutes, Bundy supporters saw the cattle being released about a mile away in the distance.
It cannot be overstated how much of a gargantuan victory this represents for the American people in their battle against big government tyranny.
"The people have the power when they unite," Ammon Bundy told the Las Vegas Review Journal. "The war has just begun."
http://www.infowars.com/feds-back-down-in-new-bundy-standoff-agree-to-release-cattle/
.
"Nearly two dozen police officers and a SWAT unit were at the scene to keep the peace and assist the BLM enforcement officers to safely leave the area."8newsnow.com
.
The BLM obviously overplayed it's hand and Reid and Obama began to see some political blowback especially when the Chinese Solar Land Grab was exposed with mediation aka paybacks via Harry Reid, his sons, the director of the BLM, apparently a former Reid aide and others who were involved. Since the cattle auction operations wouldn't touch the cattle for the Feds it would force the BLM to shoot the cattle, something that they could not do without a photo leaking. That would have been a major political disaster. It's calfing season per Mr Bundy so let's  hope none of his cattle died – if any were harmed he should send them the bill. And now they're in round-up he should just go to market.
They will go back, lick their wounds and go at it another way. Meanwhile, Senator Harry Reid's criminal activity has been exposed and he needs to be hit in the face with it. And we also need to find out how far and deep this skullduggery against the American people has gone!!! The Feds/BLM/Globalists need to ensure Mr Bundy remains alive and well!!!
.
Recall Harry Reid and get him before a Criminal Court. This is where the real battle begins which ends only when we see him marched off to jail!!!
.
Related
AUDIO: 200 Cowboys on Horseback Attempting to Seize Back Cattle Stolen by the Rustlers/Feds
BLM Backs Down: Sen. Reid-Big Chinese Energy Land Grab Vs Bundy Family Ranch
FAA Designates Bundy Ranch a No-Fly Zone
Breaking: Sen. Harry Reid Behind BLM Land Grab of Bundy …
If the Feds Take Your Cattle and Property, YOU Become …
Clarke Co. Commissioner Threatens Ranchers: "Better …
Range War – Nevada Cattle Rancher Standoff
Clarke Co. Commissioner Threatens Ranchers: "Better Have Funeral Plans" – "inbred bastards" – said we should "turn our asses around on mind our own f-ing business"
.
Update 6:15: 130 cattle dead and let's not forget that the BLM vandals destroyed the infrastructure – water tanks and water lines….this isn't the end by any means.