Published on Dec 15, 2014 Video credit: Chris Nooney – "Protesters brawl with NYPD officers on the Brooklyn Bridge"
…
Four down, two to go.
A fourth suspect wanted for allegedly assaulting police officers during last weekend's Millions March NYC protests surrendered to cops Saturday afternoon, just hours after a fellow cop-basher did the same, authorities said.
Cindy Gorn, 29 — "Female Suspect No. 2" — is a grad student at Columbia University who walked into Manhattan's Fifth Precinct station house with her lawyer at 12:30 p.m., sources said.
The NYPD circulated video images of six people who the department says attacked officers as the Dec. 13 demonstrations made their way to the Brooklyn Bridge.
The six suspects allegedly prevented police from arresting a protester, later identified as another academic, Baruch College Professor Eric Linsker, who had thrown a garbage can at two lieutenants during the mayhem.
Linsker was arrested Dec. 14 on assault, resisting arrest, riot and marijuana-possession charges.
Gorn, a Brooklyn resident, was the second academic to surrender Saturday: Zachary Campbell, 32, a Rutgers University grad student and Spanish instructor, turned himself in at the Fifth Precinct station house earlier in the day, sources said.
Gorn is expected to face the same charges that cops slapped on Campbell — "Male Suspect No. 4" — including riot and obstructing governmental administration.
Campbell didn't speak as he left the station house Saturday.
Campbell's estranged wife, Maria Garcia, 36 — "Female Suspect No. 1" — was arraigned Saturday morning in Manhattan Criminal Court on charges of resisting arrest, obstructing governmental administration and rioting.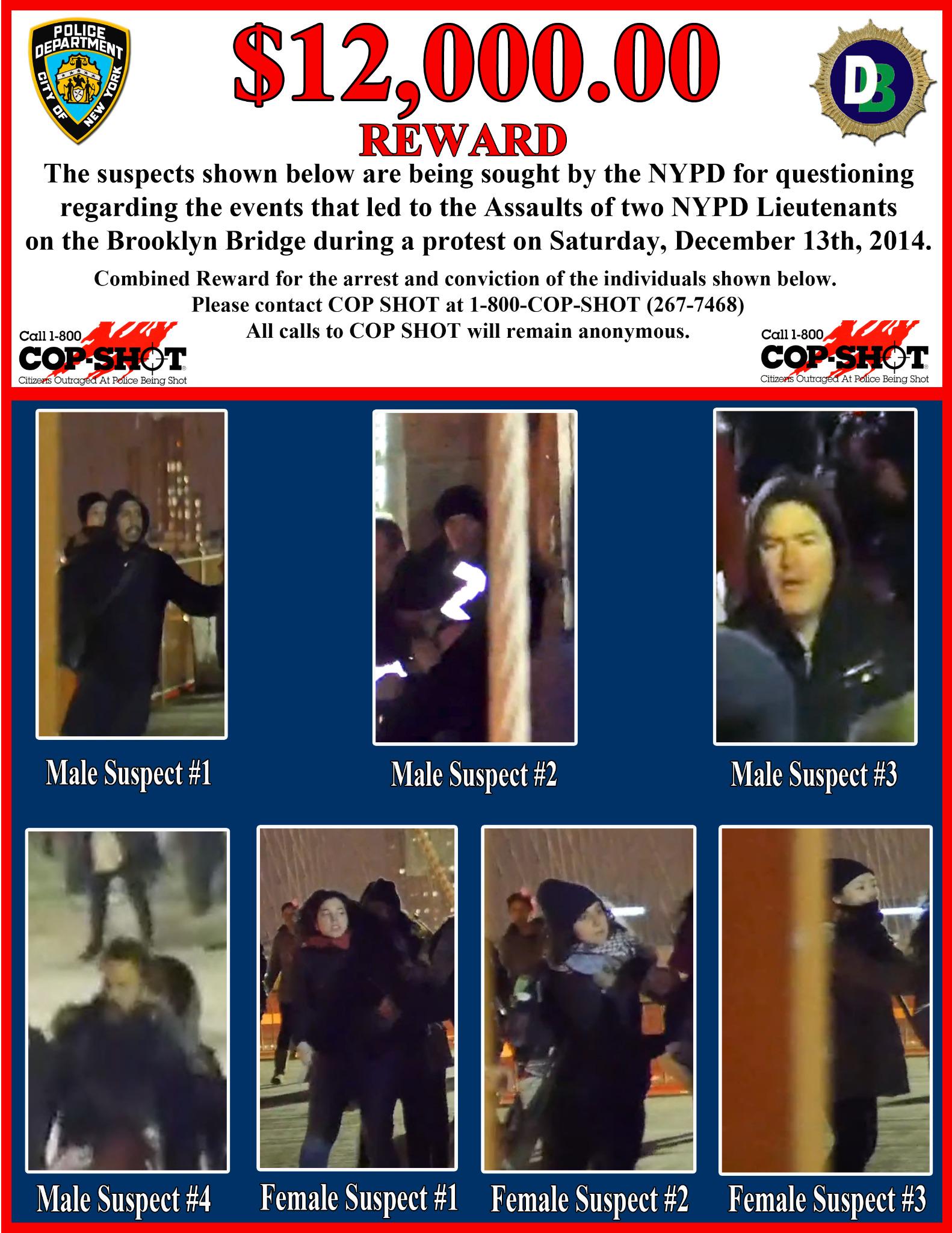 She was busted Friday after the NYPD executed a search warrant at her home in Prospect Lefferts Gardens, Brooklyn.
Her lawyer, Jonathan Oberman, denied that Garcia, who works as a program coordinator at the Queens Museum of Art, was on the bridge at the time of the assaults, which were caught on video.
"We will aggressively contest each and every allegation," Oberman said.
Prosecutor Karl Maloney said Garcia "helped create an incredibly dangerous situation on the Brooklyn Bridge. This is a strong case where the defendant is on video putting her hands on two different police officers."
But Oberman slammed the case against his client as driven by politics, saying a detective working the case told him, " 'You know there is a lot of pressure coming down from the top. I'm sure enough to go forward with the arrest.' "
Garcia is "legally married to and physically separated" from Campbell, the lawyer said.
Garcia was released on $1,000 bail. She declined comment as she left the courthouse.
Rob Murray, 43 — "Male Suspect No. 3" — was arrested Thursday after he turned himself in, police said. He was later released on $10,000 bail.
Murray, who worked as a labor organizer for Service Employees International Union and is a regular at political protests, was arrested outside of the 2004 Republican National Convention at Madison Square Garden. [MC->this guy Murray gets paid by the union as an instigator at protests – dunno why the cops pay dues to  unions]
Investigators are still looking for at least two other suspects in the Saturday night melee that left NYPD Lt. Philip Chan with a broken nose.
Another NYPD officer, Lt. Patrick Sullivan, also was assaulted in the mayhem.
The NYPD has upped the reward to $25,000 for anyone with information leading to an arrest.
Columbia and Rutgers universities, as well as the Queens Museum of Art, did not respond to requests for comment.
Frequent protests have erupted throughout the city since the Dec. 3 decision by a Staten Island grand jury not to indict officers for the July death of Eric Garner, 43, in Tompkinsville.
Garner was allegedly selling loose cigarettes when Officer Daniel Pantaleo, trying to arrest him, wrapped an arm around the larger man's neck and brought him to the ground. Garner, who yelled, "I can't breathe!" died shortly thereafter.
http://nypost.com/2014/12/20/fourth-suspect-surrenders-in-cop-bashing/
.
Second suspect in cop-bashing hit with charges
…"Maria Garcia, 36 – or "Female Suspect No. 1" – was charged with resisting arrest, obstructing governmental administration, and rioting, cops said.
The Brooklyn woman was allegedly being uncooperative with police and refusing to answer questions at the 7th Precinct on the Lower East Side, sources added.
Garcia was arrested at 10 a.m. after cops executed a search warrant at her home in Brooklyn, NYPD Deputy Chief William Aubry said during a press conference at 1 Police Plaza.
She was whisked out of the 5th Precinct by plainclothes police officers Friday night and driven off in an unmarked police car.
Another suspect, Robert Murray, 43, surrendered to police Thursday.
Cops are still hunting for five other suspects in the attack last Saturday that left NYPD Lt. Philip Chan with a broken nose.
A second cop was also attacked by the mob, which was trying to stop cops from arresting CUNY professor Eric Linsker for allegedly tossing two garbage cans onto other officers from the bridge's elevated walkway.
Murray, called "Male Suspect No. 3," was charged with second-degree assault for allegedly busting Chan's nose in the videotaped mob attack.
Murray, who worked for the SEIU as an organizer, was released Friday on $10,000 bail.
http://nypost.com/2014/12/19/second-suspect-in-cop-bashing-arrested/
.
A shout-out to the stupid woman who kept yelling "RECORD IT", since it was a video recording that identified the cop-bashers, one of which may have even been herself!!! heh
I'm fed-up of these overly-idealistic, marauding, opportunistic, cowardly anarchists – let's hope they throw the book at them…
PS: Obama, like Murray, is/was a Community Organizer…aka a paid instigator…